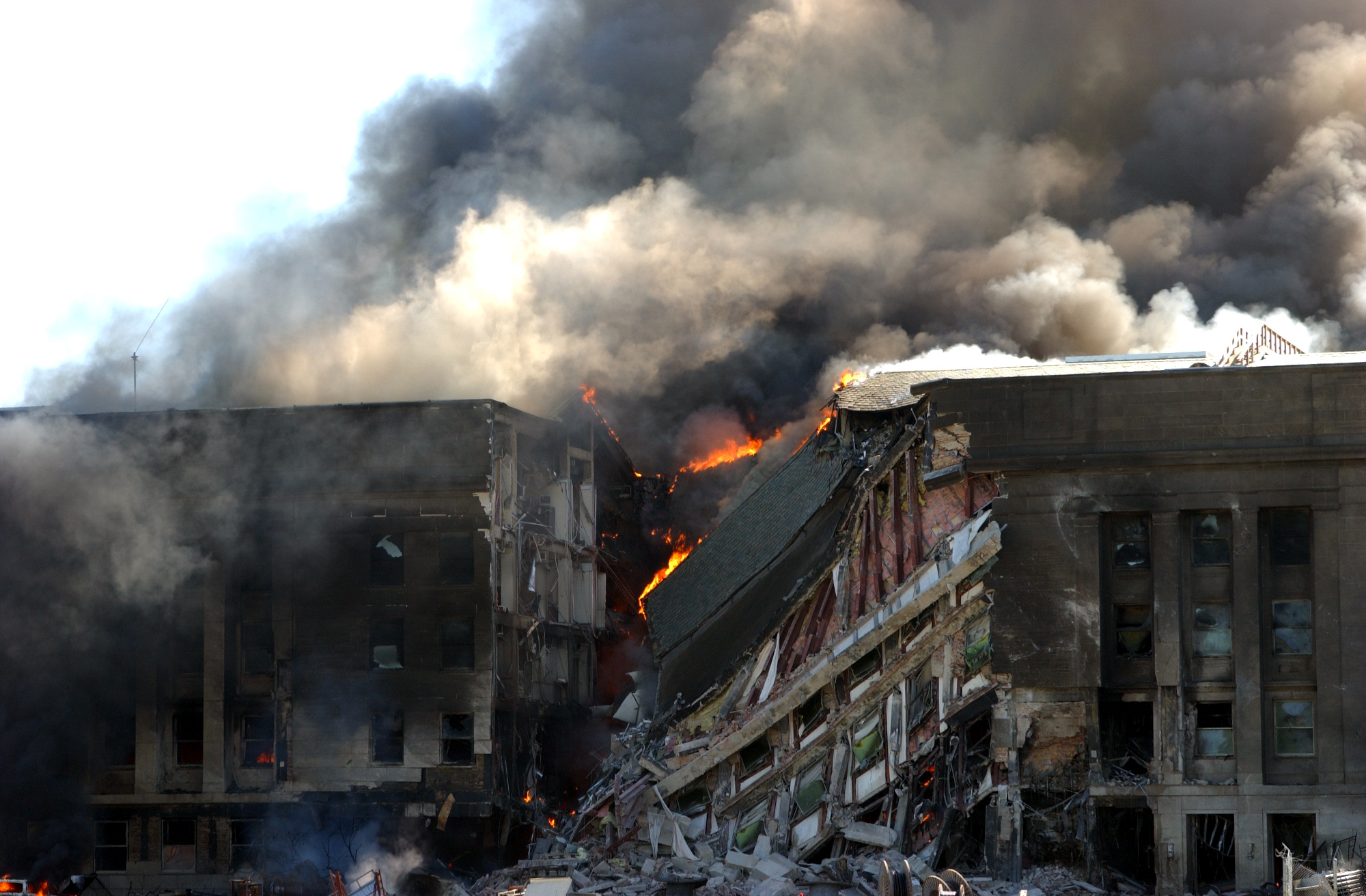 By Craig McKee
Richard Gage admits that his pronouncements on the Pentagon research of Citizen Investigation Team have done more harm than good.
Since he first waded into the debate two-and-a-half years ago, the founder of Architects and Engineers for 9/11 Truth has taken plenty of heat from people on all sides of the question of whether a 757 hit the Pentagon on the morning of Sept. 11, 2001. Gage now feels he should never have gotten involved – and most people agree with him.
"Entering into and rendering a recommendation and then withdrawing that recommendation ended up really stirring the pot in ways that I don't think were helpful either time to the 9/11 Truth movement," Gage said in an interview last week in Montreal, the last stop on his 12-city Canadian tour.
"Had we never rendered an opinion (on CIT's film National Security Alert) and just limited our attention publicly to the World Trade Center towers we would not have sustained such criticism from both sides of that argument, that argument being the flyover theory that CIT is promoting, which has been a source of great animosity within the 9/11 Truth movement."
Gage and I discussed several subjects related to 9/11, including his hotly debated decision to speak at the annual convention of the Nation of Islam in early March, and, of course, his own evidence that the three World Trade Center towers were brought down in controlled demolitions (I attended his excellent two-hour presentation the night after our interview).
In this article I'll look at the Gage/Pentagon controversy with a later follow-up addressing the other subjects, including my reaction to Gage's presentation.

AE911truth has never officially taken a position on the Pentagon – even aspects of the evidence that would fall directly under their members' areas of expertise. Gage explained to me why the organization won't pronounce itself on the physical evidence there:
"We're concerned that there's such a lack of information, a lack of good, accurate information," he said. "There's so much disinformation, there's so much misinformation, and there's so much animosity within the 9/11 Truth movement that our entry into that arena would be more disruptive than helpful – and has been actually already.
"So we confine ourselves to the World Trade Center evidence because the evidence is so clear, so convincing, and irrefutable that almost everybody gets it. And we have agreement on it, in general, within the 9/11 Truth movement. And so we don't need to take on an area that is a quagmire."
Is the Pentagon a quagmire, a no-win situation for the Truth movement? I am one of those who feels the Pentagon "quagmire" is a contrived controversy, and that most 9/11 truthers have no problem accepting the idea that no 757 ever hit the building. It is just a few who seem to feel attacking CIT is the best way to move forward.
Attacks on CIT go back well before Gage got involved. By the time the summer of 2009 came along, CIT had been the subject of vocal attacks from those who inexplicably believe that the Pentagon was the scene of a 757 crash on the morning of 9/11. These critics (in some cases people whose work on the World Trade Center was and is well respected) found a home on 911blogger.com, a site that has since banned just about anyone who has a positive word to say about CIT.
Gage chose that summer to recommend CIT's work in this original statement, joining major figures like David Ray Griffin and Barrie Zwicker in praising CIT for its significant findings:
 "The exhaustive effort by Craig Ranke and Aldo Marquis of Citizen Investigation Team to contact, record, document, and analyze numerous first-hand eyewitness accounts of the actual flight path of the airliner at the Pentagon on 9/11 has been long overdue, but worth waiting for. The evidence they have uncovered and compiled in their DVD "National Security Alert" deserves serious attention – particularly in light of what we now know about the explosive destruction of the three World Trade Center high-rises that day."
So far, so good. In December of that year, Gage issued a "clarification" in which he distanced himself from CIT's belief that the large airliner that approached the Pentagon flew over it instead of into it:
"Earlier this year I wrote a review of CIT's National Security Alert in which I recommended that we all take a closer at the eyewitness accounts supporting the "North path" of American Airlines Flight 77 at the Pentagon. CIT's investigation includes detailed in-person interviews which appeared quite compelling. As AE911Truth's focus is the destruction of three buildings at WTC, I didn't perform an exhaustive review of CIT's material and methods. My quick statement (see below) should not be portrayed as an endorsement of CIT's conclusion that the airliner "flew over" the Pentagon."
This was odd. He says his statement shouldn't be taken as an endorsement of flyover. Fine. But he also insinuates that CIT's methods were wanting without coming right out and saying it. Still, had he stopped there, it wouldn't have been disastrous. But he didn't.
In February 2011, just a couple of weeks after CIT opponents David Chandler and Jonathan Cole had posted an attack on CIT on 911blogger, Gage released a "complete withdrawal of support" for CIT on the same site.
He cited many of CIT's most enthusiastic attackers to support his case that the group had used improper investigative methods. He based this on a claim that CIT had not made it clear that some witnesses interviewed in the film not only supported the north of Citgo flight path, but also say they saw the plane hit the building.
"It would have been a more honest approach to declare that, 'We think the plane flew over the Pentagon, but our witnesses who we using to make that point didn't see anything like that. In fact, they said they saw the plane hit the building.' Now, I know that CIT is suggesting that they were the victims of a magic show, an illusion. I do understand that."
In fact, the film makes explicitly clear that ALL the witnesses believe the plane hit (some might have been in a position to see the alleged impact, others certainly weren't). In another upcoming post I'll look in detail at Gage's claim that the film was misleading and that improper methods were used.
Gage's statement prompted loud protests from prominent truthers who support CIT's work. A letter signed by 27 truthers criticized Gage's decision. Here's an excerpt:
"Richard, we admire the work you've done with A&E," it read. "However we simply cannot stay silent about the stance that you and other members of A&E have taken about CIT and the Pentagon, as we believe it is hurting the movement and could potentially cripple it."
While Gage never responded to the letter, he did freely discuss the subject of CIT in our interview. Here's part of the exchange Gage and I had about the Pentagon:
CM: If you listen to the witnesses, the two things (impact and north of Citgo flight path) are completely incompatible. The witnesses say the plane flew on the north side of the gas station and they say the plane hit the building. Hasn't that been ruled out?
RG: "I don't know. Can you explain that to me?"
CM: Because had it been on the north side of the gas station it could not have knocked the light poles over.
RG: "Right. I agree."
CM: Which means that the light poles had to have been staged. And I believe Pilots for 9/11 Truth has done a study in terms of G forces to indicate that there's no way the plane could have been on the north side and then banked…
RG: "Well they said they saw it bank, the witnesses."
CM: Yes, they said they saw it bank to the right. But that doesn't help the [impact] theory. It doesn't help it because they're still missing the light poles (the official story has a straight south of Citgo approach, no banking). So if the plane really hit the building, why would you stage knocked-over light poles? What would be the purpose of that exactly, if you're planning to fly the plane into the building? That certainly supports the idea of the illusion, doesn't it?
RG: "Right. Ya. There's a lot to be resolved there. I actually don't have an opinion on whether the plane flew over the building or went into it. That's not part of my statement. But I do believe there was a plane. These witnesses saw a plane, that's an important distinction and also a disruptive set of elements in the 9/11 Truth movement. Most people in the 9/11 Truth movement think there was a plane."
CM: Absolutely, including David Ray Griffin.
RG: "Didn't he at some point support CIT as well?"
CM: As far as I know he still does.
RG: "And he believes there was some kind of plane present."
CM: He believes there was a plane, he just doesn't think it hit the building.
Gage admits he broke a promise to CIT's Craig Ranke when he released his withdrawal of support:
CM: I spoke to Craig Ranke in Toronto in September and he mentioned that you had made a commitment to him that before ever withdrawing your endorsement you would talk to him first.
RG: "That's probably accurate."
CM: What was the reason you didn't?
RG: "I didn't want to go back and forth and back and forth and back and forth, because both sides of this argument are very convincing and very difficult, and I needed to be done with the issue and get off the fence.
"I'm not interested in pursuing the points any further because I'm already behind in the work that I'm doing and I need to focus on that. But if there's some kind of information that proves something I might be inclined – probably not, though – if it draws the 9/11 Truth movement together instead of splitting it apart then I'd be … I'm a servant of the 9/11 Truth movement, ultimately."
I don't think we'll be hearing any more official Pentagon statements from Gage as much as I might think a withdrawal of his withdrawal of support would be best for the movement. He is going to focus his energy on spreading the message that the World Trade Center buildings were brought down by explosives. On this subject, Gage has much support, which he deserves.
While I've criticized his decision to give in to pressure from CIT opponents, I must give him full marks for his bold and courageous decision to speak to a large and well-informed audience at the Nation of Islam convention. He did this despite pressure from AE911truth colleagues to decline the invitation because of Minister Louis Farrakhan's controversial reputation. AE911Truth's Kevin Ryan also spoke.
This is exactly the kind of gutsy action we need more of from Truth leaders like Gage. The route of excessive caution and caving in to pressure has not served us well.