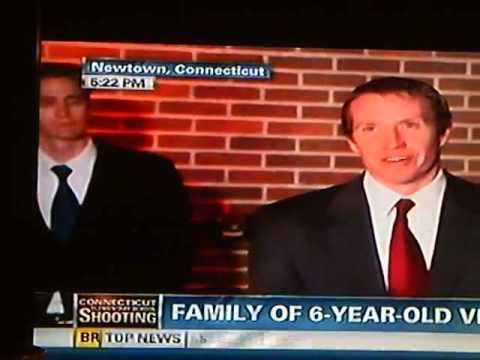 Robbie Parker smiles right before getting into character at briefing.
December 31, 2012
By Craig McKee
It's a story we've been fed before.
A horrific and violent mass shooting takes place. Innocent people die, a community mourns, and the world feels even less safe than before. People struggle to make sense of what appears to be a random event, the work of a disturbed lone killer.
The mainstream media present us with a narrative that leans heavily on emotion and the need for "healing." In the early going, facts that don't fit this story may be floating around, but they are soon trimmed as if they never existed. And once the narrative is set, it almost certainly stays that way.
Whether it's bogus "terrorist attacks" like 9/11 or mass killings pinned on "lone gunmen" like we just saw at Sandy Hook Elementary School in Newtown, Connecticut, the mainstream media fail to – or refuse to – point out the gaping holes in the official story. Often, they appear to be actively covering them up.
It's not only that critical questions aren't answered, it's that they aren't even asked.
If you go to the home page of the Newtown Bee, you'll see a long list of stories about the shooting in which 20 children and six adults were allegedly shot to death (plus alleged shooter Adam Lanza and his mother, Nancy Lanza). How many of these focus on actual evidence? Zero. Most are about how the families are coping, how the community is healing, and the role of guns in the tragedy. Heavy on emotion, light on questions.
The more we learn about the Sandy Hook shooting, the more the official account falls apart. For example, how is it possible that two weeks after the incident we still don't know conclusively which weapons were used or even how many weapons were found at the scene and where?
We were told that two handguns, a Glock and a SIG SAUER, were found with Adam Lanza's body. We were told that he killed his victims with a .223-caliber Bushmaster rifle and that many shell casings from this gun were found on the floor in the school. We were also told during the day that police had found the Bushmaster in the trunk of Lanza's black Honda. Obviously, he couldn't have put the gun back in the trunk and then returned to the school to kill himself.
NBC News later reported that four, not two, handguns were found inside the school and no rifles. But chief medical examiner H. Wayne Carver told reporters that that the wounds he saw on the dead children were from a rifle not a handgun.
Then, another long gun is found in the trunk of a car purported to have been driven to the scene by Adam – but the discovery is made (or perhaps recreated?) after dark. Does this mean it's not the same one they found earlier in the day? This is shown in police video. Rather than preserving the gun as it was found, the officer clears a cartridge from the chamber and handles the gun as if he is not the least bit worried about compromising valuable evidence.
How could there be such confusion about basic facts if only one shooter was involved? But if multiple shooters were involved, and a cover-up fully underway, things make more sense.
We also hear on the police scanner that the car is actually registered to Norwalk, CT native and alleged petty criminal Christopher Rodia and not to anyone in the Lanza family. Why are we not hearing about this? Who is Rodia, and what is his connection to Lanza? The subject is discussed here.
Then there is substitute teacher Lauren Rousseau's car in the Sandy Hook parking lot being "riddled with bullets" as reported by the New York Daily News.
How does this fit into the official scenario, exactly? And why don't journalists see the importance of a fact like this?
Police scanner recordings indicate that both a rifle and a shotgun were seen as police chased possible suspects. This would mean guns other than the one(s) found in the trunk, or trunks. So that means four long guns or more? Plus the four handguns? So how many guns were there all together?
And why haven't we heard about other suspects being arrested, which they clearly were? On the police scanner recordings we hear:
"I have reports that teachers saw two shadows running past the building, past the gym."
Then another voice: "Ya, we got 'em. They're coming at me." inaudible "they're coming down the driveway, left side." Another voice: inaudible "… this is it." We then hear that the police have one or more suspects "proned out."
Then, several minutes later: "Be advised. We do have multiple weapons, including a rifle and a shotgun."
So we clearly have a major story waiting to be revealed by the media: multiple suspects, multiple guns, and the portrait of Adam Lanza as a disturbed lone gunman now in serious doubt.
Another video clearly shows a man being chased into the woods and apprehended. According to one witness, the suspect was then brought out of the woods and placed in a police car. Who is this guy, and what led police to arrest him? Was he released? Why aren't the media asking about him?
One very articulate young student explained on camera how another person was on the ground and handcuffed near the fire station, a short distance from the school. Is this a possible third shooter? Another student reported hearing someone inside the school telling someone to else put their hands up with the other voice saying, "Don't shoot." Would Adam Lanza tell anyone to put their hands up if he were in the middle of a killing rampage? Or was one of shooters being told to put his hands up by police?
Then there is the profusion of false reports that originated with unnamed "law enforcement" sources. How did unnamed sources lead media to conclude that Ryan Lanza was actually the shooter? Or that both Ryan and Adam were both shooters and that one had been taken into custody? We are told that Adam had his brother's ID, and yet Ryan says he had not seen Adam since 2010. And how could that ID lead anyone to conclude that both Ryan and Adam were shooters together?
All of this was present in an Associated Press story.  The unnamed source got a whole lot wrong. In addition to all the above, the article tells us that Ryan Lanza's girlfriend and another friend were missing the day of the shooting. How could anyone say that anyone was "missing" just a few hours after the shooting? Who said they were missing? Were the activities of the Lanza family being monitored before the shooting?
In his essay "Sandy Hook – Evidence of Foreknowledge,"  in Veteran's Today, Niall Bradley makes a very significant point: how did any law enforcement official even know that Ryan had a younger brother so early in the game, especially given that no public records of Adam Lanza appear to exist after 2009?
Why were we told that Nancy Lanza was a teacher at the school and that she had been among the dead at the scene? When school teachers and officials denied knowing her, the tale was amended to suggest that Lanza might have been a substitute teacher and later a volunteer, explaining why she was not known to other teachers. Where would this come from given that none of it is true? We now know that she had no connection to the school, although Adam apparently did attend the school briefly, ending in 2002.
We even heard at one point that Adam's father, Peter Lanza, had been killed.
Yes, confusion is natural and expected in these types of disasters – to a point. But some of the false reports don't make sense. Do law enforcement sources generally throw out unconfirmed bits of information and rumours to journalists? It's almost as if all these "errors" were thrown into the mix on purpose to camouflage other anomalies and gaps in the story.
That's another thing: Lanza had killed himself (allegedly) before police arrived. That's quite a trick given that police spokesman Lt. J Paul Vance reported that they arrived on scene almost immediately. Lanza had time to shoot 26 people and turn the gun on himself within a couple of minutes, leaving just two adults wounded?
As with the Aurora shooting in July, the gunman in Newtown went to the trouble of wearing a bulletproof vest and hiding his face, which should set off very loud alarm bells. We just have to take the authorities' word for it that Lanza shot anyone, just like we have to take their word for it that he shot his mother in their home (no one in the media even asks for evidence that he was the shooter there). Is there anyone who can place Adam in the school or are we just going on the presence of his dead body as described by authorities?
Just as we saw with the Aurora shooting, the alleged shooter is labelled as the gunman in most media reports (sometimes a crazed gunman). It's really disgusting how major media don't think there's anything wrong with calling him "the killer" and saying he shot his mother and 26 more people at the school. No one seems to care about proof or the presumption of innocence anymore.
Then we started hearing from the parents, and that's when things got really bizarre. The award for worst supporting actor in a false flag operation has to go to Robbie Parker, the father of one of the children who was apparently shot that day. A smiling Parker had to visibly work himself into character at a press conference. He began breathing deeply in preparation for being "choked up" about the loss of his daughter. His acting teacher must have recommended deep breaths between words to convey emotional devastation.
And there are other interviews that are almost as suspicious. The McDonnell family talk about their daughter Grace as if she died years ago, and they're looking back fondly. No tears. In fact, we haven't seen any tears from any parents in TV interviews. Then there is Gene Rosen, the local resident who tells a story about children and a teacher showing up on his lawn after the shooting, and him inviting them in and giving them some of his grandson's stuffed animals. In numerous interviews Rosen loses his composure but never sheds an actual tear.
Then there's this really bizarre item: a memorial Facebook page for victim Victoria Soto was created four days BEFORE the shooting. I'm open to any and all theories about this. The page was apparently taken down but can be viewed on this video.  There are several other pages called RIP Victoria Soto that can be found – all created after Dec. 14.
Another essay on the shooting that's worth reading is by James F. Tracy  on globalresearch.ca called "Sandy Hook massare: Unanswered questions and missing information." He  looks at whether things we saw at Sandy Hook fit with what we'd expect to see with an event like this:
"Nor are there any routine eyewitness, photo or video evidence of the crime scene's aftermath—broken glass, blasted security locks and doors, bullet casings and holes, bloodied walls and floors—all of which are common in such investigations and reportage."
Are we going to see security footage of the shooting rampage or will we see a replay of the government's refusal to release footage of Flight 77 as it allegedly hit the Pentagon on 9/11? If we do see footage from Sandy Hook, will it confirm the identity of the shooter? Almost certainly not. Once again, they'll just want us to take their word for it.
So much of this story feels suspiciously similar to the Aurora theatre shooting in July. In both cases we have a young man with no history of violence disguising himself in protective gear, including a mask and bulletproof vest, and shooting a bunch of people in a public place. Both appear to have been found at the respective scenes (Holmes alive and meekly sitting in his car and Lanza apparently dead by his own hand). But there is no one (yet) who can positively say they saw either man fire a shot.
It is possible that Adam Lanza did fire shots, but almost certainly not acting alone. I'm inclined to doubt that he shot anyone, just as I don't believe James Holmes shot anyone. I think they were both patsies and guilty of coming to the attention of the wrong people at the wrong time.
I'll conclude with a trip even further down the rabbit hole:
The Aurora shooting took place during a midnight showing of The Dark Knight Rises. In a trailer for Skyfall that played before the film, we see a view of the cityscape in Shanghai with the word "Aurora" shining in giant red letters atop one of the largest buildings (Aurora was the Roman goddess of the morning).
Coincidence, you're thinking. Fine. In the scene when (spoiler alert!) explosives destroy a football field in the middle of play, the player who runs the length of the field with the ball – unaware of how close he has come to death until he turns around – wears jersey number 86. In 1986, a comic called Batman: The Dark Knight Returns contained a scene where a gunman enters a movie theatre and opens fire on innocent moviegoers. In the comic, the person accused of the crime (Batman) is innocent.
But I've saved the best for last: In a shot in The Dark Knight Rises, a map of Gotham City is spread out on a table. You can only read two locations on the map, even when the image is considerably enlarged. One is the label indicating that the map is of Gotham City, and the other is Sandy Hook. Not only can we read "Sandy Hook" on the map clearly, but Commissioner Gordon points right to the name as he is talking. Another version of the map that was used for promotional purposes shows it even more clearly. Sandy Hook is labelled on the map as "strike zone 1."
Heckuva coincidence, isn't it?