October 19, 2015
By Craig McKee
In my last post, I deconstructed David Chandler's very disturbing Pentagon presentation at last month's 9/11 Truth Film Festival in Oakland, CA. But as troubling as his reinforcement of most of the official story was, it wasn't the only talk at the festival given by a member of his "Team" of researchers.
Festival organizer Ken Jenkins—who along with Chandler wants the rest of the Truth Movement to believe a large plane actually hit the Pentagon as the official story claims—tried in his brief talk to link his Team's Pentagon theory with the widely supported position advanced by Architects & Engineers for 9/11 Truth that the World Trade Center towers were brought down in controlled demolitions. If you liked controlled demolition, you'll love a large plane hitting the Pentagon!
It was six minutes of pure spin and cleverly worded manipulation.
Here is how Jenkins explained it:
"… AE911Truth was founded on the idea that a growing group of trained professionals would use the scientific method to create a converging set of ideas and theories concerning the three World Trade Center demolitions. With that guided group approach, the result is that AE has a comparatively minimal amount of infighting regarding their central theory, that of controlled demolition. Partly for that reason, AE has grown to be the most successful and impactful organization in the history of our movement. In more recent years, some of the same scientists and engineers that helped make AE so successful have turned their attention to the unanswered questions at the Pentagon. There now exists a growing body of scholarly papers, web sites, and group efforts utilizing the scientific method to examine these Pentagon questions, and they have converged on a central thesis that challenges some of our persistent beliefs within our movement."
This slippery and disingenuous statement requires some dissection. Notice that the position he doesn't approve of is described as "persistent beliefs" while he and the Team are a "growing group of trained professionals" who have "a growing body of scholarly papers."
The reason a body of "scholarly papers" and "group efforts" is growing is because the same small Team keeps repackaging their discredited ideas in paper after paper, giving a false impression that their numbers are increasing and that the movement is heading in their direction.
They are not, and it is not.
While he doesn't say it straight out, Jenkins creates the impression that the brain trust of AE911Truth itself, after establishing the case for controlled demolition, has moved on to the task of proving that a 757 crashed into the Pentagon. I wonder if Niels Harrit, Steven Jones, and Richard Gage got that memo. I wonder if the more than 2,300 architects and engineers who have signed the AE911Truth petition got it. My hunch is that none of the above wishes Ken Jenkins or David Chandler to speak for them on the Pentagon.
Festival plans changed
The original plan at the festival was to have Jenkins screen his own film, The Pentagon Plane Puzzle, but  when it wasn't going to be finished in time, it was decided that he would show a 30-minute preview (really a chunk of the film dealing with what witnesses saw) preceded by a live six-minute introduction.
"The final film, which I hope to premiere here next year, will cover the full spectrum of evidence as it is examined through the scientific method. Today David Chandler will be presenting much of the additional information immediately after this film preview."
Considerable discussion took place within the group that organizes the festival, the Northern California 9/11 Truth Alliance, concerning how, or whether, the Pentagon would be dealt with at both the 2014 and 2015 festivals. Some wanted Barbara Honegger's video presentation Behind the Smoke Curtain to be included in the 2014 festival, but Jenkins was adamantly opposed. An agreement was made to wait until 2015 festival to screen Smoke Curtain so that Jenkins could have time to produce a film countering Honegger's position. Only once it was clear that Plane Puzzle would not be finished in time for 2015, Chandler was added as a speaker.
In my last post, I and my co-authors reiterated something I've been saying for nearly five years: that Chandler is part of an organized and co-ordinated Team of researchers who want to convince us that a 757 hit the Pentagon, relying mostly on elements of the official story to do it. (There is nothing wrong with researchers working together, of course, but there is when they leave the false impression that they just happened to respect and cite each other's work and that they all reached their common conclusions independently.)
In an amazing piece of timing, the existence of the Team was confirmed just two days after the article was posted when Chandler wrote to the Northern California 9/11 Truth Alliance announcing that a new paper with seven co-authors would be released soon. Here was his message:
Thank you for the honorarium. I appreciate it. Mine was not an easy talk to give this year, and the restrictions made it a little harder, but although it did not make me more popular, I thought it was an important statement to make. Please be alert to the upcoming paper by John Wyndham, Frank Legge, Jim Hoffman, Victoria Ashley, Jon Cole, Ken Jenkins, and myself with a definitive reply to Barbara Honegger's theories. Popularity is not the name of the game. We use the word Truth a lot, and the process of discerning truth is as important as the end results. Thank you for inviting me to speak. –David Chandler
I have identified all seven of the listed co-authors as being Team members in past articles, and there they are, working on a single paper together. So what I have been saying is now out in the open. It's what I would characterize as an organized effort to steer the Truth Movement away from some of the strongest evidence we have that 9/11 was an inside job.
The "we use the word Truth a lot" is a jab at what I wrote—that the group uses the word "science" a lot to give their claims more credibility. At least we know he read it.
It's also interesting that they appear to have turned their attention to Barbara Honegger's research after spending several years going after Citizen Investigation Team and its contention that credible witnesses put the flight path of the plane that approached the Pentagon on the north side of the former Citgo gas station. This path is irreconcilable with the damage (downed light poles, alleged entrance hole, alleged exit hole). It's as if they think they have successfully dispensed with CIT so now they want to move on to Honegger.
It will be interesting to see what the Team comes up with in the Honegger paper (I also have serious issues with some of her conclusions, but I agree with her that no airliner hit the Pentagon and that explosives inside the building were used to simulate a crash), and it will be interesting to see how much of what they come up with actually contradicts the official story. Not much, if Chandler's talk is any indication.
Diverging theories?
But let's get back to Jenkins' carefully crafted film introduction, which was packed with some very revealing details. He starts his remarks by lamenting how the Truth Movement has been mired in "endless debate" and "endless war" over the Pentagon for 14 years now. Of course, he sees those on his side of the debate as the best hope to end the division using "science."
"A long series of diverging and mutually contradictory theories have been put forth by various individuals, mostly based on speculation and partial, selective evidence. The result is a movement that is divided and at odds with itself making us weaker and less effective in our mission of reaching the public with our alternate narrative regarding the events of 9/11."
I don't know what "long series of diverging and mutually contradictory theories" he's talking about, but he knows that the main disagreement is between the vast majority of truthers, who believe a 757 impact never took place, and his group, which is adamant about convincing us that it did. Sure there are other theories that are based on speculation—like a missile impact—but it is disingenuous to lump those baseless theories in with those are based on solid evidence. Among the most solid research done on the Pentagon is that done by CIT and Pilots for 9/11 Truth. Nothing diverging, nothing contradictory.
Jenkins dismisses the majority opinion, claiming it is based on "speculation and partial, selective evidence." The "speculation" reference can be found all through the "scholarly papers" of the Team.
Contrary to what Jenkins says, it is not "diverging" theories that are dividing the movement, it is he and his Team that are doing that by going after those who offer the most effective challenges to the official story rather than going after the official story itself. Without Jenkins, Chandler, and the other members of the Team, the movement would be relatively united that a plane crash was faked at the Pentagon just as an impressive array of evidence indicates.
Jenkins used his introduction to dip into the Team's familiar talking points, mentioning "the scientific method" no fewer than four times, doing his part to imprint the term on our memory and add an artificial credibility to the group's work. The rest of the team loves the term also and uses it over and over (In John Wyndham's paper "The Pentagon Attack: Problems with Theories Alternative to Large Plane Impact" you'll find it mentioned five times). It seems that telling us they are using the scientific method is even more important than actually using it. You can find all their "scholarly papers" on the predictably named scientificmethod911.org web site.
Jenkins had this to say about how his film will break new ground:
"The film preview you are about to see, The Pentagon Plane Puzzle, will be the first time by members of the 9/11 Truth Movement we'll apply the scientific method to the long-debated question of whether or not a 757 airliner hit the Pentagon and whether that plane was indeed Flight 77. Based in large part on the growing body of papers by researchers, scientists and engineers within the 9/11 Truth Movement, this film will explore all the available evidence, including recent discoveries that many within our movement don't even yet know about."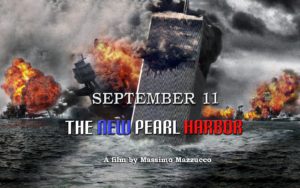 What's really disturbing about Jenkins is that he, like the rest of the Team, seems to have an ideological and dogmatic drive to undermine any evidence that no plane crash took place at the Pentagon. When I spoke to him in June of this year, I mentioned that Massimo Mazzucco, in his film September 11: The New Pearl Harbor, had showed very convincingly that there were differences between the two camera views that purport to show a plane crossing the Pentagon lawn. Frames from the two views, which come from very similar angles, are synchronized by a "multiplexer," and this is confirmed by the fact that in all corresponding frames, the shape of the smoke clouds is identical. The only frames that show any differences are the ones where the alleged plane appears. While the smoke cloud remains identical in those frames, they show a white blur that is supposed to be a plane, but in different positions. This proves that the video was doctored and that it is, at the very least, part of a cover-up.
Jenkins said he was disappointed that he and Mazzucco could not have worked together on this (implying that he could have saved the filmmaker from making a terrible mistake, although there is absolutely no reason to think any mistake was made), and he questioned whether Mazzucco had considered what type of multiplexer had been used because there are different kinds, and that could affect whether his conclusions are correct. Even when we have solid proof that falsified evidence has been created to convince us that a real plane crashed, Jenkins wants to find a way to discount that evidence.
"Well then he has an agenda – either intentionally or unintentionally," Mazzucco said in an interview. "But it's interesting he would even feel the need to debunk that."
Mazzucco said he collaborated closely with Italian researcher Pier Paolo Murru, who discovered the video anomaly and who was extremely demanding about how his findings were described in the film as well as wanting to be sure that the wording was accurate and precise.
"So when I put that thing out I knew it was correct," Mazzucco said. "So I don't fear any debunking on that."
Psychological barriers
Jenkins says his future film, which will now likely premiere at next year's festival, will also address the psychological barriers that truth seekers face. I think this is a good topic and one that I know Jenkins has looked at in the past. But, as he explains, it's not just those who believe the official story who have to overcome barriers, it's also those in the movement who have those "persistent beliefs" mentioned earlier. He said:
"Just as our movement has long ago realized that one of our primary obstacles to acceptance of our alternative theory of 9/11 are psychological, we also experience similar psychological resistance within our movement, resistance to beliefs that have long held dominance."
Jenkins says he'll look at three barriers in particular: confirmation bias, primacy bias, and the persistence of discredited beliefs. Of course, we'll have to wait for the film to know for sure how he will apply these to the Pentagon, but I have a pretty good idea. All three will be used to claim that truthers cling to their long-held view that no plane hit the Pentagon despite all of that "new information" and those "scholarly papers." In other words, there are psychological reasons that so many people still believe a plane did not hit the Pentagon, just as "debunkers" often claim there are psychological reasons why some don't believe the official story of 9/11. His group has scholarship and science, while others only have "beliefs."
Finally, he said:
"That means we must let go of beliefs that do not align with the full and complete objective, evidence."
I have a pretty good idea what he wants us all to "let go of" and what he'd like us to put in its place.
Mazzucco, in researching his film, says he examined all the "scholarly papers" by the group very carefully but did not find anything persuasive in them.
"I discarded immediately the Legge/Chandler paper because of course the first thing I did was go and check the sources they used for that list of witnesses, and when I got down to 20 and I couldn't find anyone I said something is wrong with this. That's why I call it junk. And I don't use the word "junk" very easily. In terms of a researcher, unsupported and undocumented witnesses are junk. And Craig Ranke (of CIT, which made the film National Security Alert) has done the opposite: he's put name and last name of people and what they say. It's on the spot, and it's on camera."
Pentagon section gets chopped
To see just how determined Jenkins is to bring the movement around to the "complete objective evidence" that most of the Pentagon official story is true, you have to go back to last year's film festival.
Jenkins got permission from Mazzucco to screen New Pearl Harbor (which is five hours long) at the 2014 festival. The two had discussed the Pentagon and found that they could not agree on what the evidence shows. While Mazzucco does not rule out the impact of a smaller aircraft, he does present a very convincing case—yes, based on science—that the evidence is not consistent with a large plane impact.
Jenkins, who is a video producer, said the film was about half an hour too long and that he could trim sections of it to fit it into the festival schedule. But instead of cutting small portions from different sections of the film—as Mazzucco says he was led to believe would happen—Jenkins just cut out the whole Pentagon section.
"He never said he would cut out the whole Pentagon chapter of course," Mazzucco said. "I would have said no as strongly as I could. That's not trimming here and there, that's cutting a whole half hour from the film. That told me where he stood, and that was the end of my interest in a constructive relationship."
As I mentioned in the last Truth and Shadows post, Chandler, Frank Legge, and John Wyndham wrote to Mazzucco trying to get him to change the Pentagon section of New Pearl Harbor, which took him three years to make. He declined and stands by all the conclusions in his film.
"All the arguments that they used are exactly the same arguments that the debunkers use," Mazzucco asserts.
Not only did Jenkins cut the Pentagon section (which he did not approve of), but he sold copies of the film with the same cuts. He was also heard describing his cut of the film as the "science safe" version. This caused quite a controversy within the Northern California 9/11 Truth Alliance and actually resulted in the group sending an apology letter to Mazzucco after much internal debate.
"The problem is not Ken Jenkins," Mazzucco said. "Ken Jenkins is just the victim of this problem. Somebody must have worked his brain and other people's brains enough with this scientific bullshit that they actually fell for it. He's probably a real truther doing it in all honesty. And if he's not, he's doing a really bad job."
It's clear from this incident, and from what happened this year, and what this Team has been doing for several years now, that they will attack anyone who takes the position that a plane crash was faked at the Pentagon. They appear not to be concerned with what is false in the official story but just with what they claim is false in what other truthers are saying.
I do want to make clear that I don't have anything personal against any of these people. The only person I've spoken to live is Jenkins (once this summer on Skype and once on the Kevin Barrett Show). He seems like a nice enough fellow. He says in his address that we have to find ways to discuss the subject at hand without resorting to ridicule. I agree that anyone who is sincere in seeking the truth should be treated with respect. But I also do not believe that those who are leading us astray should get a free pass just because we all want to appear to be getting along.
I wrote this in the last article and I'll write it again: this group has done enormous damage to the 9/11 truth seeking effort, and, if anything, it appears they want to accelerate that effort. They are viewed as being credible and respectable by some because of their excellent work on the World Trade Center destruction, and they are cashing that in to challenge anyone who takes the position that a plane did not hit the Pentagon.
After 14 years, a clear majority of the Truth Movement does not agree with Jenkins or the Team. This point is not contested, even by them. And yet, this small minority of "scientists" thinks they must rescue our credibility by convincing virtually the whole movement to reverse itself and adopt a position that non-truthers won't find "ridiculous."
This is very weak. How can this group actually believe that sticking much closer to the official story 14 YEARS INTO THIS FIGHT is going to help us reach the breakthrough we all agree is needed? It's so illogical that one has to wonder what they are really trying to achieve and why.
The fact that this group represents "some of the same scientists and engineers" that established controlled demolition as the movement's dominant position makes their efforts that much more troubling. How can people like Chandler, Jenkins, Cole, and Ryan do such positive things for the cause of truth in other areas and then devote almost all their time spent on the Pentagon to opposing those who oppose the official story?
This is much more of a mystery than what actually happened at the Pentagon on 9/11.