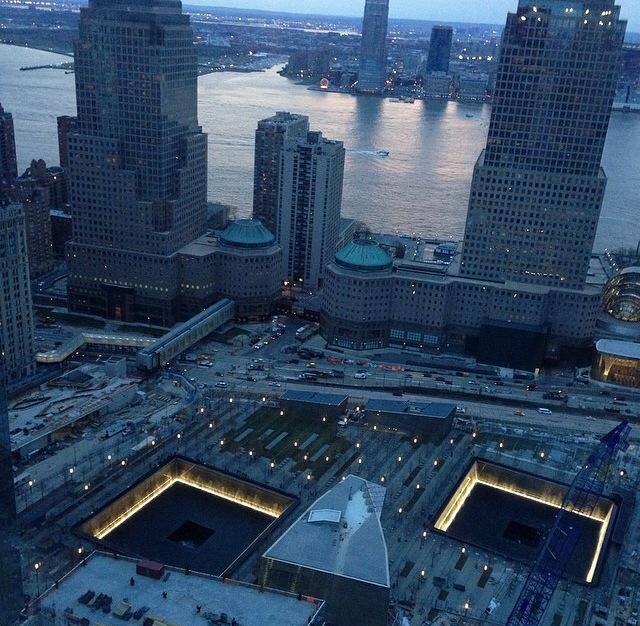 September 8, 2015
By Craig McKee
It's that time of year once again, when the public's interest in 9/11 propaganda is resuscitated for a few days and the volume of lies is ramped up to meet the demand.
The members of the general public who pay any attention to the 14th anniversary will sit in front of their TVs watching mainstream coverage that tells them to "Remember 9/11" but deceives them about what they should remember. One thing the media will never do is encourage viewers to question what they've been told about what actually happened and who was really responsible. There may be some mention of the effort to declassify the famous 28 pages that allegedly point to Saudi involvement in 9/11, but only because that does not challenge the idea that America was attacked by external terrorists. It goes without saying that there will be nothing said about U.S. or Israeli involvement in the "attacks."
What media focus there is will be on courage, loss, heroism, and emotion. There will be no time for thinking at all. There will be no real journalism. Nothing will be challenged or challenging. Nothing will be investigated. It will be "poignant" and "inspiring" and vapid. That is not to say that real tragedy isn't being commemorated or that genuine heartbreak isn't being recognized. There were victims: those killed that day; those who worked at Ground Zero who have died of cancer in the years since, and the millions worldwide who have been killed in the bogus war on terror and the real wars that it has instigated and fueled.
All the while, outside of the media's selective gaze, dedicated truth activists who don't just think about 9/11 when the media tells them to will be holding conferences, screening films, and commemorating the greatest deception of our time in a variety of ways. Most hold out hope that their family and friends and other ordinary people might take a look at the evidence, even just the basics, even just for a few minutes, and that they might open their minds just a crack. The dream is that people will slowly awaken to the fact that 9/11 was a blatant false flag operation designed to start foreign wars, kick start the police state at home, and generally advance the New World Order agenda.
Most of the people I know have refused to seriously question anything about 9/11. They not only accept the official narrative, but often they stand with the real perpetrators in ridiculing any suggestion that we've been lied to for the last 14 years. Yes, some will express doubts about whether we've been told the whole truth and offer some friendly encouragement, but then they will go about their business as usual, content to continue seeing the world just as they always have.
So, as we begin year 15, we continue the fight to expose the truth about 9/11 and the horrific injustices it has spawned. Here are some of the events of note going on across North America this week. Undoubtedly there are many more.
Global online conference by Canadian truthers
On Sept. 11 and 12, there will be an online conference coming out of Canada called "9/11 Global Interactive Broadcast to expose lies of the 9/11 Attacks and the War on Terror" that will feature some impressive scholars and researchers. The lineup includes Barrie Zwicker, Graeme MacQueen, James Corbett, Cynthia McKinney, Kevin Ryan, Daniele Ganser, and David Johnson. The moderator will be Bev Collins, the host of the Internet radio show 9/11 Talks. For details about the speaking schedule and to watch a live stream of the event, go to https://rethinkseptember11.wordpress.com/.
9/11 Symposium in New York
On Sept. 12 between 10 a.m. and 7 p.m. EST at the West Park Presbyterian Church, located at 165 West 86th Street , there will be a 9/11 Symposium called "Declassify the Truth: 9/11 Transparency on the Rise" that features an impressive list of researchers and some interesting panel discussions. Among those speaking are Wayne Madsen, Lance De Haven Smith, Barbara Honegger, Bob McIlvaine, Frances Schure, Russ Baker, Sander Hicks, and a number of others. Tickets are $25.
AE911Truth billboard across from New York Times
Once again this year, Architects & Engineers for 9/11 Truth will have a very visible presence in New York City in the month of September. Last year it was a video screen in Times Square and this year it will be a billboard directly opposite the New York Times building. This was the original plan last year but had to be changed when the location became unavailable at the last minute. AE911Truth estimates that the billboard will be seen by 100,000 people a day and 3 million over the course of the month.
Beyond Misinformation booklet available

In time for the 14th anniversary, AE911Truth has also released its 50-page color booklet called Beyond Misinformation. I was privileged to be one of the contributing writers on this project, which was headed up by Ted Walter (who I think did an incredible job). Every word in the booklet was vetted by an expert panel put together by AE. I hope to do a full article on the project soon. For more information or to order, go to http://www.shop.ae911truth.org/Beyond-Misinformation-Booklet-bkltBM.htm.
New film exposes myths
The new 90-minute film Firefighters, Architects & Engineers Expose the Myths of 9/11, a joint presentation of Richard Gage of AE911Truth and Erik Lawyer, the founder of Firefighters for 9/11 Truth, will have its premiere on Sept. 11 in New York City. The film addresses several of the myths surrounding the destruction of the WTC and the failure of the National Institute of Standards and Technology to comply with the requirements of the national guideline for fire and explosion investigations. The screening takes place at 7 p.m. EST at the West Park Presbyterian Church, located at 165 West 86th Street. Both Gage and Lawyer will be on hand.
Pentagon gets attention at film fest
The 9/11 Truth Film Festival, this year called "9/11: The Myth and the Maintenance," is taking place again this year at the Grand Lake Theater in Oakland and will feature an assortment of films, videos, and speakers. The event, organized by Northern California 9/11 Truth Alliance, runs between 1 p.m. PST and 10 p.m. PST (4 p.m. to 1 a.m. EST) on Sept. 10. Tickets are $15 at the door, and the event can also be live-streamed at http://noliesradio.org/filmfestival in return for a donation.
The Pentagon gets particular attention from the festival with a screening Barbara Honegger's Beyond the
Smoke Curtain and a preview of Ken Jenkins' unfinished film The Pentagon Plane Puzzle. Jenkins, who is the main organizer of the festival, has made it his mission to push the plane-impact position despite all the evidence to the contrary.
Also taking that puzzling position is David Chandler, who will deliver a talk called: "Going Beyond Speculation: A Scientific Look at the Pentagon Evidence." I will have a great deal to say about the Jenkins and Chandler presentations in an upcoming post. But I can't resist a comment on the presumptuousness of the title of Chandler's talk: "Going Beyond Speculation…" Apparently Chandler is the first researcher in 14 years to look at the evidence; everybody else was just "speculating."
We'll see the premiere of Robbie Martin's film A Very Heavy Agenda as well as an excerpt from the documentary Shadow Ring dealing with false flags. There will also be videos that feature Peter Dale Scott and Cynthia McKinney. Other speakers will include radio host Kevin Barrett, the editor of the new book We Are Not Charlie Hebdo; and Peter Phillips and Mickey Huff of Project Censored.
Other NYC events
AE911Truth will also be outside the National 9/11 Museum handing out their alternative guide to the museum. That will be at the corner of Church and Vesey streets between 9 a.m. and 5 p.m. EST.
There will be a ceremony for the reading of the names of 9/11 victims starting at 1 p.m. on Sept. 11 outside St. Paul's Chapel at the corner of Church and Vesely streets. The victims being honored include those killed on 9/11 and the millions who have died as a result of 9/11. There will also be a candlelight vigil at the 9/11 Memorial Plaza Survivor Tree at Ground Zero starting at 8:30 p.m. EST on Sept. 12.