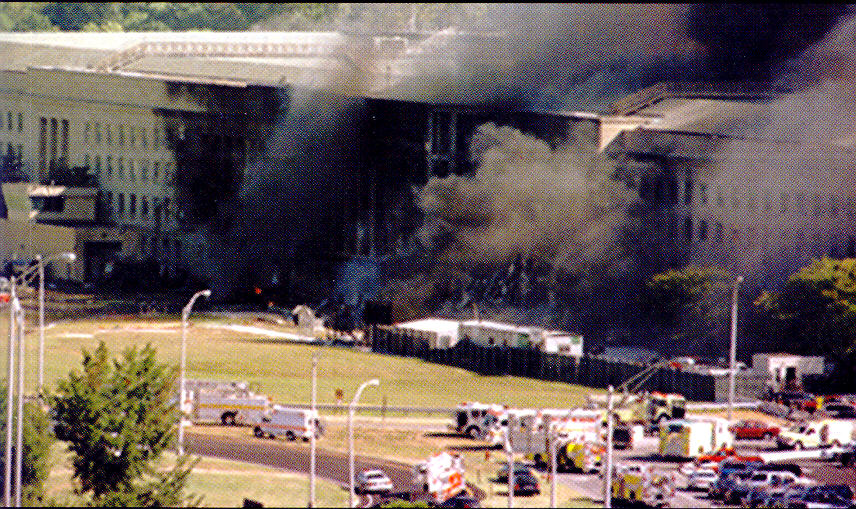 By Craig McKee
Over the past several years, David Ray Griffin has set the highest standard for 9/11 research. He has looked at the entire official story, showing us how every aspect of it fails to stand up to scrutiny.
His approach has been just right, and 9/11 Truth would not have achieved a fraction of what it has without his efforts.
For the first time in those 10 years, however, there's a "but."
His presentation at the Toronto 9/11 hearings last week on "anomalies" of flights 77 and 93 introduced some troubling elements to his position that weren't there before. And I fear the result won't be the consensus building he favours.
In his talk (which echoes a chapter in his new book, 9/11 Ten Years After: When State Crimes Against Democracy Succeed), Griffin deferred to members of a small group that spends a disproportionate amount of its time attacking the Pentagon research of Citizen Investigation Team. CIT has presented evidence that backs up the position that no 757 hit the Pentagon.
In fact, Griffin is now citing three people whose expertise on the Pentagon is dubious at best. This isn't good.
The three are 911Blogger fixtures Frank Legge, David Chandler, and Jonathan Cole. The latter two were prominent presenters at last week's Toronto hearings. When it comes to WTC research, both Chandler and Cole enjoy excellent reputations. It's when we turn to the Pentagon that problems arise.
Throughout his presentation in Toronto, Griffin cited a Chandler/Cole paper on the Pentagon from early 2011 as a reference – even when he could have been citing his own research, which is much more thorough and thoughtful. He continually makes points that start with "Legge agrees…" or "Chandler and Cole agree…"
We need Chandler and Cole to question why Norman Mineta's testimony was left out of the 9/11 Commission Report? The whole thing is very strange. Here's my criticism of the C/C paper from February.
I did a short interview with Griffin at the conclusion of the Toronto hearings, and I asked him about the shift in his position. He told me that he came to realize that the question of whether a 757 hit the building is secondary and that there's enough evidence that the Pentagon event could not have been a case of al-Qaeda flying Flight 77 into the Pentagon..
"I should have seen it all along," he said.
I referred to the intense pressure that persuaded Richard Gage of Architects and Engineers for 9/11 Truth to withdraw his support of the CIT film National Security Alert, and asked Griffin if he'd received pressure from others to take on this new position.
"I got some," he said. "But no kind of pressure is going to make me change my mind."
To be clear, Griffin says he still believes NO PLANE HIT THE PENTAGON. He has been consistent about that from the beginning. But he is concerned that the fighting within the movement about the Pentagon issue has hurt the cause. He's absolutely right about that. But whose fault is that?
I think it's primarily the fault of those who relentlessly and viciously attack CIT and mock their research. Incessant forum contributors like Snowcrash (Michiel de Boer), Chris Sarns, jmd3100, Victoria Ashley, Jim Hoffman, Jeff Hill and others have turned attacking CIT into a collective full-time job.
While Griffin's quest for consensus is an admirable one, I believe the strongest Pentagon evidence relates to the absence of proof that a large plane hit that building. I don't agree that this evidence should be tossed aside because a small group opposes its use and creates an artificial "controversy."
In Toronto, I spoke to Cole about the issue and made a suggestion to him that he call on all his supporters to stop the attacks on CIT for the good of the movement. He said he agreed that both sides should stop. I suggested that since he has no control over CIT supporters that he call on his supporters to stop the attacks.
"I've been thinking about doing that," he said.
Great. I'll be watching to see if he follows through on this.
These three researchers give great weight to the notion that we can't prove that a 757 didn't hit the building (I actually think we can, but that's another post). But is this really the pertinent question? We can't prove it wasn't the Russians either; should we therefore abandon the overwhelming evidence that the U.S. government was involved in the so-called attacks?
The thing in Griffin's talk that I found most concerning was that he spent a good chunk of time explaining how the position taken by Chandler and Cole does not mean they are supporting the official story as it pertains to the Pentagon. He listed six points to back this up:
Pentagon is the most secure building in the world and it shouldn't have been possible to hit it with a plane
Cheney's claim he didn't know about the plane until it crashed is contradicted by the 9/11 Commission testimony of Norman Mineta
Hani Hanjour was too poor a pilot to have flown the plane into the Pentagon
The manoeuvre was so difficult that even a less incompetent al-Qaeda pilot couldn't have done it
Al-Qaeda would have flown into the roof because it made a bigger target
Al-Qaeda would have flown into the part of the building that housed the top military brass, not a newly renovated section that was largely empty
These are all important parts of the story but they just make it highly unlikely that al-Qaeda piloted the plane into the building. The lack of physical evidence of a plane crash (not one piece of wreckage has been positively tied to Flight 77; why didn't we hear about that?) barely got a mention in Toronto (other than Barbara Honegger's talk on explosives in the building).
So why does the most respected member of the 9/11 Truth movement feel the need to defend Chandler and Cole from criticism – especially fair criticism. Griffin explains how it's possible to believe a 757 hit and yet oppose the official story. Fine. But is this really the point the world needs to be convinced of?
Legge/Chandler devote a good amount of space to their dispute with Pilots for 9/11 Truth over the flight path, G forces, and other technical matters. It takes for granted that four planes were hijacked on 9/11 and that "normal interception response failed." This suggests that the military wanted to stop the planes but were unable to. Griffin is on record as not believing this.
"Unfortunately the well-presented videos and website of CIT have impressed a lot of people, so dissension has arisen, which is destructive to the 9/11 Truth movement." They also write that CIT "has intensified its personal attacks on anyone who criticizes their claims in blogs and Facebook."
Are they kidding? CIT's web site has led to dissension? How about 911Blogger; that's the primary source of the venom (not to mention truthaction.org and 911oz.com)?
The paper continues to attack CIT for its "selectively edited interviews." This is nonsense. Watch National Security Alert and judge for yourself.
Then there's this: "…a number of observers saw the debris outside the Pentagon but did not see the sizable hole in the wall, more than adequate to allow most of the aircraft to enter. They reported that the amount of debris was not sufficient. Thus was created the fertile field in which alternative theories developed to explain the observed damage."
I'm sorry, but David Ray Griffin should not be identifying himself with people who think the size of the Pentagon hole was "more than adequate" to allow "most" of the plane to enter. If I'm not mistaken, that is going further even than Popular Mechanics was willing to go. Is there any basis for this statement or are we to just take their word for it?
Legge and Chandler actually have the nerve to cite the darkest disruptor in all of 9/11 Truth, Michiel de Boer (Snowcrash) as an authority on whether a plane hit or didn't hit the Pentagon. I can scarcely think of anyone less qualified.
This man has shown himself repeatedly to be working to divide and destroy the movement with his incessant ad hominem attacks. His last comment on my blog suggested I go back to running with the other "psychotic stalkers." Very impressive. If you want to hear more of Snowcrash's greatest hits, read this post.
Griffin cites this Legge/Chandler paper but his positions don't agree with it at all. Nor do they support the Chandler/Cole paper. So why is he basing his presentation to the important Toronto hearings on them?
In my judgment, the way to find a consensus is to show how all elements of the official story will crumble when challenged and go from there.