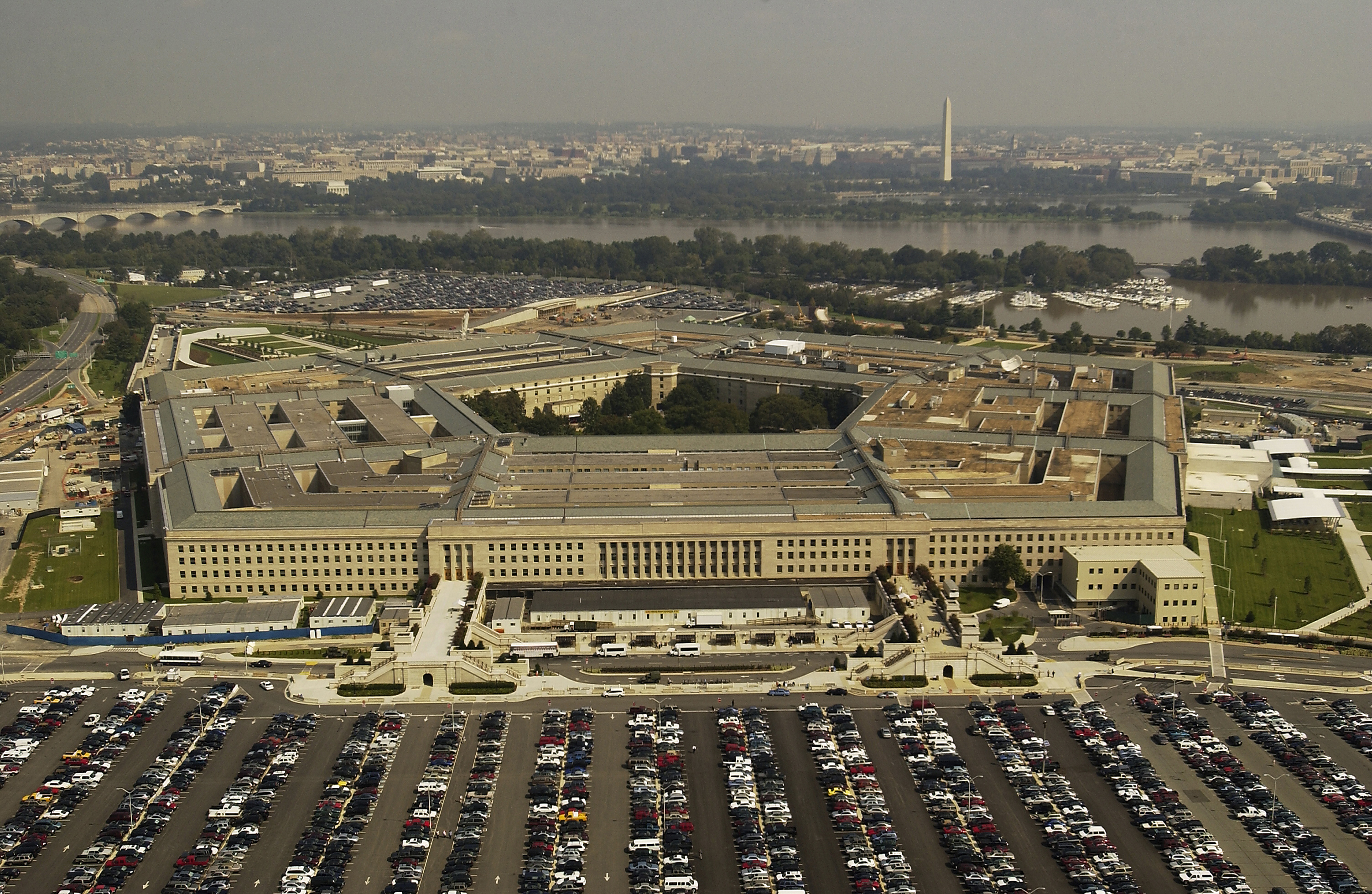 July 15, 2013
By Craig McKee
It won't be a debate, but the issue of what happened at the Pentagon on 9/11 will still get a hearing at the "9/11: Advancing the Truth" conference, scheduled for Sept. 14-15 at the Sheraton Pentagon City in Arlington, VA.
Instead of the formal three-way debate that was planned, we'll now see three one-hour presentations followed by either a 30- or 60-minute panel discussion that will feature questions from the audience, according to chief conference organizer Matt Sullivan of DC 9/11 Truth. He says that those invited to speak on the Pentagon raised concerns about the debate format, and this led to the decision to modify it.
Each presentation will cover one of three distinct positions: that no large plane hit the Pentagon; that a large plane did hit, although not necessarily Flight 77; and the hybrid view of researcher Barbara Honegger, who says no large plane hit but that a smaller craft crashed near the heliport several minutes before the alleged impact of Flight 77.
The main question that remains is who will present in support of the position that no large plane hit the Pentagon. Organizers have invited Craig Ranke of Citizen Investigation Team, and they are awaiting a decision from him. Despite his photograph appearing on the conference web site as a participant, Ranke confirmed in an interview this week that he has not yet decided whether he will accept the invitation. He notes that he was invited considerably later than other potential participants.
If Ranke declines the invitation then organizers will have to scramble to get someone to represent the no-impact position. While there are others who could do this, none would be better suited to the task than Ranke, who was part of the team that found evidence that the large plane that did approach the Pentagon was travelling on the north side of the former Citgo gas station (located across the street from the Pentagon), not on the south side as required to account for the damage path.
The other two participants for the Pentagon session have been confirmed: Honegger (who is part of the organizing team behind the conference) and retired NASA executive Dwain Deets, a member of San Diegans for 9/11 Truth and once a CIT supporter, who will explain his perplexing conversion to the "pro-plane-impact" position.
I engaged in an exchange with Deets on Facebook about the reason for his conversion and emerged none the wiser. I do give him credit for being willing to defend his new position at the conference since several others from the pro-impact/anti-CIT camp have declined invitations to participate. This is no surprise given that CIT has issued numerous debate challenges to their critics that have gone unheeded.
Sullivan confirms that plane–impact supporter Kevin Ryan will likely not speak at the conference because "he doesn't want to be associated with the Pentagon debate."
Again, no surprise there. Ryan is part of the small but vocal group that wants us to ignore some of the most damning evidence that 9/11 was a false flag operation – i.e. evidence showing that the Pentagon was the scene of a faked plane crash.
While the Pentagon session is the one that intrigues me the most about this conference, there are a number of other speakers and topics that should prove fascinating.
Here is the rest of the line-up, which is still subject to change:
On Saturday morning, Richard Gage of Architects and Engineers for 9/11 Truth will be honoured, along with the 2,000 signatories of the AE petition, for their contribution to the cause. Gage will speak briefly but will not make his usual controlled demolition presentation (although he will be doing that at another event in the city the same week).
The Saturday morning theme is: "What We've Learned," which begins with a session called "Manufactured Terrorism: Then and Now." This will feature radio host Kevin Barrett, a co-founder of the American Muslim Political Action Committee; Webster Tarpley, author of 9/11 Synthetic Terror: Made in USA; Peter Janney, author of Mary's Mosaic: The CIA Conspiracy to Murder John F. Kennedy, Mary Pinchot Meyer, and Their Vision for World Peace; and MD Rabbi Alam, founder of the American Muslim Political Action Committee, who will speak on his experience as a Muslim in America since 9/11.
In the following session, attorney and investigative journalist Barry Kissin will talk about the connections between 9/11 and the 2001 anthrax "attacks."
The theme for Saturday afternoon will be "Breaking New Ground." It will begin with Russia Today's Abby Martin being honoured, although she is apparently only permitted to make brief remarks because of her contract with RT (Is it just me, or is there a contradiction in this?).
Sullivan says there are two purposes in bringing Martin to the conference.
"We're honouring her because she has gotten [9/11 truth] on to mainstream television, which is very difficult to do," he says, "but also in the hope that she could interview some of the people we're bringing into town."
Frankly, despite the potential of added publicity for the conference (and despite Sullivan earning full marks for honesty), the idea of honouring Martin – who launched into a memorable and offensive "anti-conspiracy-theory" rant on RT following the Sandy Hook shooting – leaves me cold.
While she says a lot of thing we all like to hear – like you can never trust the government, the Iraq War was based on lies, and the U.S. is becoming a police state – she also trots out many of the same lines we are used to hearing from the mainstream media to discredit "conspiracy theorists." She says that some automatically believe every bad thing that happens is a government plot. She accuses them of:
engaging in "fear-mongering paranoia"
being in it for the money
making outlandish claims without any evidence
wanting to keep people afraid of their government
In her rant, she said:
"I think it's time for everyone to stop jumping on the paranoid fear train of government black operations when anything happens in this country. Before making outrageous conspiratorial claims such as the government is staging every single mass shooting to pass gun control legislation it helps to have a thing called evidence. So yeah, just stop. All of you. Stop."
How far is that from, "Let us not tolerate outrageous conspiracy theories…?"
It's not just that her language is so similar to what the mainstream media use against us, it's the mocking tone she employs. Of course, she says she is only criticizing those who jump to conclusions before any of the facts are in, and there is some truth in that. But she also dismisses the many valid questions and contradictions about the shootings.
Her statements on the air about 9/11 are also much more cautious than what she said prior to working at RT. In 2008, she was interviewed during a 9/11 truth march about whether 9/11 was an inside job and said this:
"Absolutely it was. I know that because I've researched it for three years."
But on a recent show about false flags through history, she said about 9/11:
"I myself have many questions about the attacks, seeing as they were used to create perpetual war abroad and a police state her at home."
Many questions? I guess when a pay check is involved you can't afford to be quite so certain.
The Martin session will be followed by "Motive, Men and Means: follow the money – and other fingerprints." The speakers will include Mark Gaffney, author of The 9/11 Mystery Plane and the Vanishing of America and Black 9/11: Money, Motive, and Technology.
Barbara Honegger will speak on "Targeting the Pentagon" (not to be confused with her Sunday presentation) followed by a talk by investigative journalist Wayne Madsen.
The day's program is scheduled to finish with the appearance of Shanksville, PA residents who will report on the alleged crash of Flight 93, although Sullivan says this is still a work in progress.
On Sunday, we have the Pentagon presentations and panel discussion (under the theme "Understanding the Pentagon Attack.")
I strongly suggest the organizers change this title because the word "attack" – especially where the Pentagon is concerned – clearly suggests an external enemy. This was a staged attack, not an actual attack, and it did not come from an external enemy.
In the afternoon the theme is "Unexplored Aspects and Consequences of the 9/11 Lie." Kevin Barrett will moderate, and there will be an as-yet unnamed speaker on "The diminution of liberty in the U.S. and U.S.-sponsored terror abroad." This will be followed by Isa Hodge, the Operations Chief of the American Muslim Political Action Committee, who will speak on "The entrapment of young Muslim men."
The final session features civil rights icon and comedian Dick Gregory and is called: "From JFK to MLK to RFK: The official story is always a lie. What are we the People to do?" (That title is a major mouthful.)
"He is very funny, but he's been a political and social activist his whole life, and he also has an interesting take from the black community perspective," Sullivan says. " It should be very entertaining."
Gregory received considerable attention when he stated that he received a call from a friend the night before 9/11 advising him to stay out of Manhattan the next day.
The conference winds up with a "conference statement and resolutions" followed by closing remarks from Sullivan and Barrett.
One proposal that has been discussed among the organizers is the innocent-sounding "conference statement." Organizer George Ripley is a proponent of the idea that such a statement should include a demand that the government release all the evidence it has been withholding (such as the Pentagon video). Without the evidence, he believes, we can never be sure of what really happened.
Ripley said on the monthly 9/11 Truth Teleconference call on June 26 that demanding the evidence "will put us in a unified position coming out of this, and it will put the ball in the government's court with respect to the evidence.
"I want to post the demands on the front door of the Pentagon and say listen you sons of bitches, the ball's in your court. Why are you keeping this information from us, from all of us?"
While I agree that evidence has been suppressed (and tampered with and faked), I couldn't possibly disagree more strongly about making this demand – especially as a "conference statement."
The government will simply never provide evidence of its own complicity in the crimes of 9/11. It has and will continue to refuse to release evidence on the grounds of national security. But worse than that, we'd be virtually assured that any evidence released would be inauthentic. If the government releases doctored evidence, the onus will then be on the Truth movement to prove that it is bogus.
We may not know absolutely everything about what happened at the Pentagon on 9/11, but we do know enough to prove that it was the scene of a faked plane crash (thanks to CIT, Pilots for 9/11 Truth, and others). And this is why the Pentagon is the key to unraveling the official story of 9/11, because there is only one group that had the access and the ability to fake a crash at this location.
For more information about the conference, and how to get tickets, check out the web site. If you buy your tickets by August 11, you'll get the early-bird rate of $125 for the two days or $75 for one day.