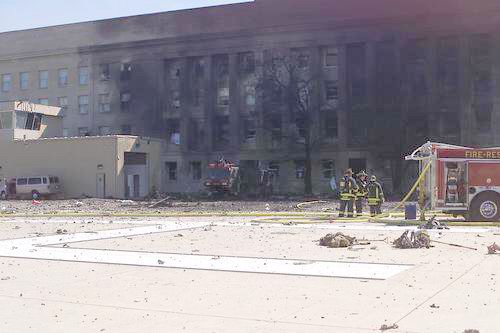 This post requires an update. In it, I expressed outrage at the appearance that a change was being made to the roster of Toronto witnesses based on pressure from the group that regularly attacks Citizen Investigation Team and ridicules the idea that no 757 hit the Pentagon. It turns out that while pressure was certainly applied, this change was at the request of the person whose name was removed from the schedule (April Gallop). Despite the fact that I said people should be angry "if" she was removed due to pressure and didn't state this as a fact, the impression left was unfair to the organizers of the hearings.–Craig McKee
By Craig McKee
It appears that the organizers of the Toronto 9/11 hearings have utterly caved to pressure and thrown fairness and common sense under the bus in the process.
April Gallop, who was injured in the Pentagon on Sept. 11, 2001 along with her infant son, has been removed from the list of witnesses at the upcoming hearings (Sept. 8-11), to be replaced by an "unconfirmed" witness. If that replacement is assigned to make the case that a 757 did, in fact, hit the Pentagon then truthers everywhere should scream bloody murder.
I really hope that the disappearance of Gallop's name from the schedule on torontohearings.org has some innocent explanation (no official reason has been given), but I'm not optimistic. Her appearance was to have been in video form.
A recent opening up of the hearings to some Pentagon research (it was to be kept to a minimum originally on the grounds that it is too "controversial") had raised the ire of the "truthers" who support the 9/11 official story as it pertains to the Pentagon.
This group was already perturbed that another Toronto event focusing on the Pentagon had been announced, involving the main objects of their scorn – Citizen Investigation Team and their film National Security Alert. This event was organized by Barrie Zwicker, author, media critic and 9/11 researcher who supports CIT's conclusions. Neither Zwicker nor CIT's Craig Ranke and Aldo Marquis were invited to speak at the hearings. Same for Pilots for 9/11 Truth, which also supports CIT.
Despite these omissions, it wasn't all bad news. In addition to Gallop, Barbara Honegger was added to talk about explosions inside the Pentagon and David Ray Griffin was scheduled to give a talk about the anomalies of flights 77 and 93. Pilot Ted Muga of San Diego was also invited to speak (he supports CIT's research) but he couldn't attend because of knee surgery.
This all indicates that openness was winning out over suppression with the Toronto organizers. That's when the gang who relentlessly attacks the idea that no 757 hit the Pentagon got busy (people like SnowCrash, Victoria Ashley, Frank Legge, Jim Hoffman, Chris Sarns, "jimd3100" and others, whose wisdom can be found on 911blogger.com, truthaction.org, 911oz.net and other sites).
They had tried to keep the Pentagon off the agenda entirely, and they failed. So over the last day or two, they got to work lobbying to get their Pentagon witness heard. And it's not like no one they favour was scheduled to speak. Richard Gage, David Chandler, Kevin Ryan, and Jonathan Cole are all on the roster and all oppose CIT.
Here's what Ashley had previously posted this week on truthaction.org:
 "I've made an effort to get a "a Boeing hit the Pentagon but never should have" speaker in to the conference to offset the "no Boeing" line-up so far — even suggested we would pay for the flight — but aside from some support by fellow attendees, I have so far been met with silence from the organizers (have emailed 3 different people, one yesterday, 2 more than a day ago).
"Many of the Canadian activists and speakers have been supporters of "no Boeing" for years now, so I think the only way to have avoided this would have been to completely keep the Pentagon topic off the agenda, which is what I thought was the original plan."
"Apparently it never was, if what Snowcrash dug up is true."
But what a difference a couple of days make.
When Gallop and Honegger were added, Frank Legge said his group had been "deceived." Yesterday, Ashley announced on truthaction.org that a change had occurred with the hearings following a meeting (presumably of the Toronto steering committee). The implication was that her people would be happy with the change. I'm sure they are.
How did they succeed in getting the organizers to cave? Not only does it appear that the "Pentagon-official-story" people have access to inside information about the hearings, but they also clearly have inside clout. Didn't organizers understand the implications of this type of last-minute change? They would have been better not to invite Gallop in the first place.
It seems that this group of anti-CIT disruptors is only happy when they are driving a wedge into the movement. I don't think they're after the truth at all.
They've succeeded in getting Gage (Architects and Engineers for 9/11 Truth) to denounce CIT in writing. By taking this very poor advice, Gage has harmed his own reputation.
Chandler and Cole have also attacked CIT in a sloppy and illogical "statement" that – like Gage's piece on CIT – was posted on 911blogger, the site that has been denounced for harming the movement and banning those who support the idea that a plane did not hit the Pentagon.
While the additions of Gallop and Honegger clearly angered the anti-CIT gang, they were still left with David Ray Griffin, who was part of the witness line-up from the beginning. In addition to his "anomalies" talk, he will also speak about the problems with the 9/11 Commission Report.
Despite doing the best job of anyone in picking apart the whole official story of 9/11, Griffin is being bashed along with CIT because he supports their contention that a 757 didn't hit the Pentagon.
Hmm. Victoria Ashley or David Ray Griffin… They're both so credible, it's hard to choose.
SnowCrash comments on truthaction.org that Griffin "still hasn't retracted" his statements supporting the position taken by CIT. But Griffin is not Gage, and unless I'm seriously mistaken, he won't compromise his considerable reputation to please a group whose goal is to suppress the truth about the Pentagon.
It seems that the Toronto hearings organizers have made that compromise.